News/Updates
| | | |
| --- | --- | --- |
| | February 10, 2019 – Assistant/Associate Professor Position (Tenure Track) in Remote Sensing | |
The University of Alaska Fairbanks (UAF) Department of Geosciences invites applications for a tenure- track position at the Assistant/Associate Professor level in the field of Remote Sensing. This is a 9-month position to begin in September 2019. It includes a 4.5-month (1/2 time) teaching appointment (two classes per year) with the Department of Geosciences, College of Natural Science and Mathematics, as well as a 4.5-month (1/2 time) research appointment with UAF's Geophysical Institute. There is the potential for up to 3-months summer salary dependent on external funding.

The successful candidate is expected to hold a PhD in the geosciences, environmental sciences, engineering, or a related discipline. We are particularly interested in an individual with a strong background in basic and applied remote sensing research aimed at geoscience and geohazard-related issues. The position is associated with a $20 million 5-year National Science Foundation EPSCoR grant that supports interdisciplinary research in the State of Alaska.

The successful candidate must have a strong commitment to undergraduate and graduate teaching and advising. We seek candidates that have the ability to teach remote sensing and critical thinking skills to prepare students for a rapidly emerging workforce.

For more information on this position and to submit your application latest on/by 11:59 pm (AKST) of March 31, 2019, please visit:

http://careers.alaska.edu/cw/en-us/job/511133/assistant-professor-of-remote-sensing

For more information on the position, please contact the search committee chair Franz Meyer, at fjmeyer@alaska.edu.
| | | |
| --- | --- | --- |
| | February 10, 2019 – Post-doc position | |
More information soon
| | | |
| --- | --- | --- |
| | February 4, 2019 – PhD position available: Hyperspectral remote sensing in forest fires | |
The Geophysical Institute at the University of Alaska Fairbanks is inviting applications for a PhD position in the area of hyperspectral remote sensing of forest fires.

We offer a PhD position to research boreal forest fire using hyperspectral remote sensing. The research will particularly focus on:
Improved characterization of Alaska's boreal forest fuel map including amount, flammability, and moisture content
Developing algorithms to scale up fuel maps from local experiment sites to the boreal forest domain of Alaska
Essential qualifications:
A Master?s degree in Geosciences, Geography, Biology or related Engineering discipline. Experience with remote sensing data analysis and image processing; excellent communication skills in English.
Desired qualification:
Experience with hyperspectral data processing, python or Matlab programming, landcover mapping from satellite or airborne images; familiarity with field survey and data collection, RTK GPS, and programs such as ArcGIS, ENVI or ERDAS.
Timeline:
To ensure consideration, please apply by
April 1, 2019
. Visit Department of Geosciences Prospective Student page for details on admission requirement and process. Contact Mandi Goddard, Graduate Coordinator, at magoddard@alaska.edu or +1 (907) 474-7755 for admission related questions.
For any question about the project please contact Dr.
Santosh Panda
or
Uma Bhatt
.
Find the PDF version of the announcement here.
| | | |
| --- | --- | --- |
| | October 10, 2016 – Hyperspectral RS job opportunity with USGS | |
If you are an experienced hyperspectral remote sensing researcher and are looking for a new challenge, this is a great opportunity to work with the US Geological Survey Spectroscopy Lab in Denver. Application is open for US citizens and the deadline is end of this month.
USGS Remote Sensing Position Vacancy Announcement: DEN-2016-0481 DEU; DEN-2016-0482 MP
| | | |
| --- | --- | --- |
| | September 14, 2016 – Field spectroscopy in upper undergraduate class | |
At UAF we've been teaching spectroscopy in our graduate level remote sensing class, but this year we made room in our upper undergraduate class (GEOS 422: Geoscience Applications of Remote Sensing) to introduce field and imaging spectroscopy.
Seeing clear skies this afternoon we decided to take some spectral measurements. Graduate student, Chris Waigl, stepped up at short notice to help with training the students. Who would mind stepping away from the computer screen in a windowless lab and get thier hands on a cool equipment? The choice was simple and students look happy.
| | | |
| --- | --- | --- |
| | July 14, 2016 – Dr. Buchhorn joins VITO | |
We'd like to take a moment to say a big THANK YOU to Dr. Marcel Buchhorn, who is moving on to join VITO in Belgium. Dr. Buchhorn has been instrumental in the success of HyLab, being involved with all aspects of instrument commissioning and data processing. He will also be remembered for introducing the high-latitude BRDF correction step in our data processing workflow. He will be dearly missed. Our team wishes him success and looks forward to continued collaboration. Dr. Marcel Buchhorn can be reached at marcel.buchhorn@vito.be.
| | | |
| --- | --- | --- |
| | June 23, 2016 – Hyspex flies in the new Aviat Husky A-1B | |
Today was a big day for the HyLab team. After working for months to custom-design all installations to hit the Hyspex system in its new and permanent platform, the Aviat Husky A-1B, the team completed a test flight over the UAF campus.
Dr. Martin Stuefer piloted the aircraft and Dr. Jordi Cristóbal operated the instrument in air. All other HyLab team members provided ground support.
Our team is really please that we have now completed the testing and commissioning of the Hyspex instrument in not just one aircraft, but on three different models. Three cheers for the team.
| | | |
| --- | --- | --- |
| | June 2, 2016 – Prakash works with BRIGHT Girls | |
It is fun to get young minds together and draw them to science and technology early on. It is also important to work with girls, who are often under-represented in areas of technology, to help build their self-efficacy with science and technology. And you can do this in an engaging, and hands-on way. These are some reasons why the National Science Foundation funded a new iTEST project called BRIGHT Girls.
Today, Anupma Prakash worked with the first BRIGHT Girls cohort in Fairbanks, to demostrate the concept of aerial imaging, usign a PVC contraption that the girls constructed themselves. A simple camera on top points downwards and takes images with the same 'bird's eye' perspective as the hyperspectral imaging device mounted on an aircraft.
Whereas our hyperspectral imaging system is controlled by a computer, this contraption takes a photo when the girls pull a string, that pushes a screw against the shutter release button. Well, the girls are in full control!
| | | |
| --- | --- | --- |
| | March 16-17, 2016 – AOS poster session | |
We were delighted to be a part of the 2016 ASSW and AOS meeting in Fairbanks, Alaska. What a fantastic meeting with over a thousand Arctic researchers, policy-makers, community-members from all around the world engaged in meaningful discussions about the needs of the changing Arctic.
We made several new contacts at the Arctic Observing Summit (AOS) poster session. Though this photo may look like we're just having a party, there was genuine interest in what our airborne imaging assets can contribute to applied research in Alaska. Thanks to everyone who stopped by our poster.
| | | |
| --- | --- | --- |
| | March 4, 2016 – UAF delivers | |
The image on the right is a screen shot of the radiometrically corrected, orthorectified mosaic product of one of the seven test sites flown over the Yukon Flat National Refuge.
Our team was pleased that we could cross over several hurdles in pre-processing the images acquired in high-latitude settings, including correcting for the effects of bidirectional reflection distribution function (BRDF) to generate the mosaic product.
Going forward we plan to acquire images only in NS or EW flight direction, if possible, to reduce the BRDF effects.
| | | |
| --- | --- | --- |
| | February 10, 2016 – The first Alaskan hypercube | |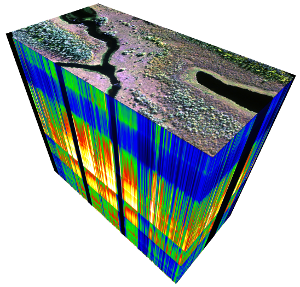 We are excited to post this image stack generated using the hyperspectral images collected from a part of the Yukon Flats, Alaska.
Thanks to Dr. Marcel Buchhorn for contributing this image, that was generated using a Python script he wrote. A high resolution version of this image and another view of the hypercube of the same site is available for download from our data and products page.
The bandstack in this hypercube starts from the shortwavelength (blue) bands on top and the longer wavelength SWIR bands at the bottom. A trained eye will be able to detect the higher reflectance in the NIR for vegetation, the low relfectance of clear water, and variation in relfectance that can be used to differentiate shore vegetation.
| | | |
| --- | --- | --- |
| | February 8, 2016 – Hyspex returns to HyLab after repair and calibration | |
We just received our shipment from Norway with a freshly calibrated HySpex unit. The team can't wait to get the unit commissioned in the new Husky, in preparation for the summer 2016 season. Time for more work!
| | | |
| --- | --- | --- |
| | February 1-3, 2016 – Hands-on training to aspiring graduate students | |
On In early February, HyLab faculty Dr. Jordi Cristóbal and Dr. Marcel Buchhorn, presented an introduction to imaging spectroscopy and provided hands-on training to graduate students who are taking the advanced remote sensing class (GEOS 654: Visible and Infrared Remote Sensing) taught by Dr. Franz Meyer.
Two hands-on lab/field sessions provided the graduate students (majority of who plan to graduate with a concentration in remote sensing) a first-time experience is using a hand-held field spectrometer and collect spectral measurements of a variety of surfaces. Hand-outs for lab session 2 and lab session 3 are available here for future reference.
| | | |
| --- | --- | --- |
| | January, 2016 – New year ... fresh plans | |
Wondering what the HyLab team has been doing while the instrument is not in-house?
Well, our team has been just as busy preparing publications and presentations (check out our products site) to use for broader outreach and networking with potential collaborators, writing grant proposals to secure external funding, and planning data acquisition priorities and schedules for summer 2016.
We have refined our data processing workflows. A radiometrically and geometrically corrected all-band stack of our sample HySpex airborne data set is now available for download (see
sites and data
).
| | | |
| --- | --- | --- |
| | Nov 21, 2015 – Hyspex shipped to Norway for repair and maintenance | |
After a busy and successful summer season, the Hyspex instrument has been shipped to Norway for a minor repair that was pending and for maintenance and re-calibration. We expect it to be back in early Spring, in time to capture some imagery from ice break-up time.
| | | |
| --- | --- | --- |
| | October 10, 2015 – Field spectrometer supports undergraduate research | |
The recently bought PSR+ field spectrometer is already in use, supporting Amanda McPherson in her undergraduate research project on mapping the Aggie Creek fire burn scar in interior Alaska.
The Aggie Creek fire started on June 22, 2015 and threatened the Elliot Highway and the Alyeska Trans-Alaska Pipeline. While the fire was very short and intense, it was of great interest. Amanda used freely available satellite images to classify burn severity (see adjacent image) and produce a burn scar map. The field spectrometry was meant for ground validation of remote sensing image product. The research was supervised by graduate student Chris Waigl.
| | | |
| --- | --- | --- |
| | October 2, 2015 – New pointing spectrometer added to HyLab | |
The really old ASD field spectrometer that the HyLab team was using finally got to the point of 'no more repair' possible. The University of Alaska Fairbanks supported HyLabs pursuit to acquire a new field spectrometer. We chose a PSR+ from Spectral Evolution for its user-friendliness and a higher signal-to-noise in the data. The new spectrometer also makes field-based spectral measurement a one-person operation, compared to the two-person operation with the old spectrometer.
Our team is excited to start putting this instrument to good use to support research, education, and training.
| | | |
| --- | --- | --- |
| | September 1, 2015 - New project with FWS for wetland mapping | |
The Yukon Flats National Wildlife Refuge of the Fish and Wildlife Services (FWS) is funding HyLab for a one-year project entitled "Use of hyperspectral imaging to test 'proof of concept' technique for wetland classification and water chemistry assessment of Alaska refuges".
We will collect hyperspectral data over selected sites in the Yukon Flats Basin to test its application to classify wetlands and assess water chemistry. This effort will compliment ongoing wetland classification efforts at FWS and will focus on both identification and function of wetland classes based on parameters such as dissolved organic matter and algal blooms that can be quantified and mapped with hyperspectral images.
| | | |
| --- | --- | --- |
| | Aug 18-20, 2015 – Equipment training | |
Dr. Antoine van der Heijde, the Norsk Elektro Optikk AS field/test and support engineer for HySpex, flew from Norway to Alaska to give members of HyLab and their collaborators a 3-day intense hands-on training on Hyspex airborne operations and data processing. It was a really worthwhile effort with a mutual learning experience. Our team could clarify all the subtle queries we had, whereas the instrument engineer could also learn a few things from our intensive testing of the system.
| | | |
| --- | --- | --- |
| | August 16, 2015 – Hyspex installation in FWS Bushhawk | |
HyLab team is partnering with colleagues from the Fish and Wildlife Service (FWS) in Fairbanks Alaska. FWS pilot and biologist Nikki Guldager has been super supporting in making the FWS Bushhawk aircraft available to install the Hyspex system for a potential project for airborne data acquisition over areas of interest for the agency.
The aircraft already had belly ports for airborne digital photography making it easy for our team to configure the Hyspex system. The photo on left shows undergraduate student Patrick Graham and Marcel Buchhorn transporting the Hyspex system in its mount to the Bushhawk.
| | | |
| --- | --- | --- |
| | July 8-16, 2015 - Field spectroscopy in Wrangell – St. Ellias | |
The Hyspex system can be configured and operated in both field- and in an airborne-mode. Seen here in the photo on the right is the Hyspex system configured in field-mode, which is ideal for scanning large vertical faces of outcrops. The VNIR and SWIR systems are mounted together on the rotational tripod and pointed toward the barren exposure of the Orange Hill in the Wrangell - St. Ellias National Park.
Raymond Kokaly (in yellow) watches the outcrop and system setting as Marcel Buchhorn (in black on the right) points and operates the system. The filed-scans will be processed to determine mineral composition of the outcrop.
| | | |
| --- | --- | --- |
| | July 6, 2015 - UAF partners with USGS for field spectroscopy | |
The UAF HyLab team is supporting the USGS minerals mapping effort by providing Hyspex field-scans of barren outcrop exposures near the Devils Mountain Lodge Airstrip in the Wrangell - St. Elias National Park. These field-scans will serve as additional ground validation for airborne hyperspectral (HyMap) data that was collected by USGS over this area in summer 2014. Our USGS lead researcher and point-of-contact for this work is Dr. Raymond Kokaly.
When packed (photo on right) the HySpex system and other accessories, including a generator for remote power operations, weighed 130 kg (286 lbs). We don't take our work lightly!
| | | |
| --- | --- | --- |
| | July 1, 2015 – Hyspex test installation in new custom-designed Husky | |
Our customized Husky aircraft, the primary carrier for the hyperspectral instrument, is now completely built, painted and ready for a test installation of the Hyspex sensors and accessories. Thanks to Martin Stuefer and his team for all the work to get to this stage. Custom-designing has helped to make sufficient place for the instruments, cables, computer, screen and for the operator in this small aircraft.
The advantage of this small aircraft is that it we can fly low and acquire data at high spatial resolution, when required. It also helps to keep the operational costs for data collection low. Both factors are really important to promote use of the hyperspectral technology in Alaska.
| | | |
| --- | --- | --- |
| | June 5, 2015 – In-lab testing for airborne configuration | |
We are taking the next steps for installing the Hyspex instrument in the aircraft - a complete testing of the airborne configuration in the lab. Here the sensor is placed in the mount, connected with an inertial measurement unit, an external global positioning system, and finally to the control computer and external power source. We are testing the performance with normal power supply and also with power from a generator.
The configuration functions with both short and long cables, and the sensors are working well with commands from the operating computer. The system is ready for installation in the aircraft.
| | | |
| --- | --- | --- |
| | June 1-12, 2015 - Extensive in-house sensor calibration | |
We devoted the first two weeks of June to in-house sensor calibration. Co-PI Don Hampton runs UAFs optical sensor calibration lab, located in the Elvey Building Room 122 of the Geophysical Institute. This facility was enhanced with the addition of a complete calibrated Spherical Integrating Source (SIS) set (see photo on the left). Besides the bench-top, 300 mm diameter, barium-sulfate coated SIS with a 127 mm diameter port window, the set includes a 100W quartz halogen light source, a 4-channel optometer, and pencil style calibration lamps for various gas emission lines.
For field calibrations, concurrent with the test flight, we set up a temporary meteorological station that recorded atmospheric temperature, humidity, wind speed and direction, and incoming and outgoing solar radiations. We also used field-portable Microtops II Sunphotometer to record aerosol optical thickness (AOT) and column water vapor. Additionally, we used an ASD Field spectrometer for target reflectance measurement.
| | | |
| --- | --- | --- |
| | April 27 - May 1, 2015 - Hands-on training at DLR | |
Dr. Martin Bachmann was our lead collaborator from the Optical Airborne Remote Sensing and Calibration Facility (OpAiRS) at the German Space Agency (DLR) for the hands-on training. Dr. Bachmann and Dr. Buchhorn had an intense week working together on coming to speed with facilities and processes for airborne hyperspectral instrument operations and data processing. This included visits to the DLR calibration home base (CHB), and processing the UAF first airborne test datasets using the processing protocols followed at DLR. The photo on the right shows the hypex sensor bolted to a gimbal stabilized mount and placed in the belly of the DLR aircraft for data acquisition.
| | | |
| --- | --- | --- |
| | May 4, 2015 - UAF's hyperspectral efforts in multiple news outlets | |
A press release from the Geophysical Institute about HyLab and the plans for new airborne hyperspectral data acquisition and processing reached a broad audience in the State of Alaska, and drummed-up new interests from potential end-users. Read the news release in the Cornerstone.
| | | |
| --- | --- | --- |
| | April 8, 2015 - First test flight over UAF campus | |
We're excited to share the news that we carried out our first test flight today. Hyspex was mounted on a beaver aircraft flown by a commercial pilot. Largely clear sky conditions made our task easier.
Marcel Buchhorn operated the instrument in the aircraft while undergraduate student Patrick Graham, and his mentor Jordi Cristobal set up a temporary meteorological station and collected ground calibration data concurrent with the airborne campaign.
Sample data is available for download here.
| | | |
| --- | --- | --- |
| | November 13, 2014 - UAF hosts event to 'Celebrate the Arctic' | |
UAF will be hosting a celebration of the Arctic. The goal is to build awareness of UAFs research activities and to build new collaboration opportunities. All are invited to the UAF Great Hall on November 13 anytime between 8:30 a.m till 12:30pm. Our HyLab team members will be demonstrating our hyperspectral imaging equipment. We will also present a poster with highlights of our recent results from the use of this equipment.
| | | |
| --- | --- | --- |
| | November 7, 2014 - Field scan for minerals at Murphy Dome | |
The field-mode testing of the Hyspex instrument continued today with scans of a bare vertical cut-face of a mineral-rich exposure at an abandoned mining site near Murphy dome, Fairbanks Alaska. USGS researcher, Raymond Kokaly, accompanied our team for data collectioned and assisted with the data processing to generate higher-order products, such as the one shown on the right here.
The square patch on the bottom left is a 10" X 10" spectralon panel used for calibration. The bottom right inset shows an image derived spectra for calcite (green), muscovite (orange), and kaolinite (blue).
| | | |
| --- | --- | --- |
| | November 3, 2014 - Field scan of vegetation at UAF | |
For the last several weeks our team has been busy checking and handling the new equipment. This included, labeling, assembling, dis-assembling, boxing, storing etc.
Today we ran the equipment in field-mode setting, scanning a vegetation / soil target on the UAF campus using power from a small generator. A scan of the short stretch of target near UAFs west-ridge resulted in 5.5 GB data in the visible & near-infrared region, and 0.4 GB data in the shortwave infrared region.
Researchers and end-users, be prepared for a wealth of data!
| | | |
| --- | --- | --- |
| | September 15, 2014 - NEO provides online training | |
Don Hampton, Anupma Prakash, Patrick Graham, Jordi Cristóbal, Marcel Buchhorn, Martin Stuefer, and Chris Waigl took the on-line training given by Trond Løke, the Research and Development manager at NEO, Norway.
NEO is the company that manufactures the Hyspex system purchased by UAF. The training covered topics including background, setup, and use of the HySpex instrument with the airborne data acquisition unit (DAU). If you are interested in getting a copy of the meeting notes, or the training material provided by the company, please contact Chris Waigl.
| | | |
| --- | --- | --- |
| | August 3, 2014 - PERS special issue released | |
PE&RS August Special Issue on "Hyperspectral Remote Sensing of Vegetation and Agricultural Crops", edited by Dr. Prasad S. Thenkabail, has just been released. There are 7 peer-reviewed articles, a highlight article, a guest editorial, and an interesting cover page on Hyperion images of the world.
If you are a member of ASPRS, you should have access to some of these articles free. If you are not a ASPRS member yet, please join and support remote sensing.
| | | |
| --- | --- | --- |
| | August 1, 2014 - HySpex instrument to arrive at UAF | |
We finally have word that the HySpex VNIR and SWIR instruments have been shipped and are anticipated to arrive at the UAF campus on August 7, 2014.
Stay tuned for more updates!
| | | |
| --- | --- | --- |
| | July 15, 2014 - Meet the NASA G-LiHT team | |
G-LiHT stands for "Goddard's Lidar, Hyperspectral and Thermal" integrated airborne imaging system. It is used for mapping at high spatial resolution, in the order of tens of centimeters, and supports terrestrial ecosystem research. For the first time, G-LiHT is flying over Alaska this summer.
Principal Investigator Bruce Cook, Instrument Manager Lawrence Corp, and Co-I Ross Nelson are currently in town and will be acquiring data till end August, 2014. On rainy days (and we are seeing plenty) when there is down-time for data acquisition, you may be able to meet them in UAFs Cutler Apartments. Their contact details are in this GSFC database. Read more about this mission on their website.
| | | |
| --- | --- | --- |
| | July 1, 2014 - Marcel Buchhorn joins UAF | |
We are delighted to announce that Dr. Marcel Buchhorn arrived in Fairbanks and joined our team today as a Post-docotral research fellow. He will be leading the efforts in commissioning and deploying the Hyspex sensor, both in the field and on an aircraft.
Dr. Buchhorn recently completed his Ph.D. from the University of Potsdam, Germany. His thesis entitled "Ground-Based Hyperspectral and Spectro-Directional Reflectance Characterization of Arctic Tundra Vegetation Communities – Field Spectroscopy and Field Spectro-Goniometry of Siberian and Alaskan Tundra in Preparation of the EnMAP Satellite Mission" is a masterpiece that won him a "summa cum laude". His
CV
provides more insight about his research interests and achievements.
| | | |
| --- | --- | --- |
| | June 11, 2014 - USGS talk | |
Mark this date for a talk in the Reichardt Geology Library by USGS researchers, Raymond Kokaly and Trude King, who work at the USGS Spectroscopy Lab. Kokaly and King will present their plans for airborne hyperspectral data acquisition over four different sites in Alaska to support strategic-minerals exploration. They have contracted an Australian company, HyVista Corporation, to fly the HyMap hyperspectral system, the same system that they flew over Afghanistan.
For more information contact the USGS team or UAF faculty members Tom Trainor; Jordi Cristobal; or Anupma Prakash.
| | | |
| --- | --- | --- |
| | June 1, 2014 - Follow NASA CARVE plans for Alaska | |
NASA's Carbon in Arctic Reservoirs Vulnerability Experiment (CARVE) started airborne data acquisitions in 2012. Principal Investigator for this project is JPL scientist Charles (Chip) Miller. Chip has been operating this summer out of Alaska Aerofuels near the Fairbanks international airport. He ususally follows a two-weeks-on and two-weeks-off schedule and will be running this campaign for next few summers.
The integrated payload includes an infrared camera, an FTIR spectrometer, and a gas analyzer. For more details on the payload, sensors, science questions the mission supports, acquisition timelines, and more, check the CARVE website.
| | | |
| --- | --- | --- |
| | May 28, 2014 - Deadline for community comments: ABOVE plans | |
NASA's Terrestrial Ecology Program is in the process of planning a major field campaign, the Arctic Boreal Vulnerability Experiment (ABoVE), which will take place in Alaska and western Canada during the next 5 to 8 years. We anticipate that UAF faculty will lead/participate in several ABoVE proposals. NASA is currently (till May 28, 2014) soliciting community comments on the ABoVE Concise Experiment Plan.
The call is quite broad and is of particular interest for faculty whose research interest is in studying vegetation, ecology, hydrology, landcover, permafrost, and how these are changing in a warming Arctic. From what we know so far, NASA will refine the experimental plan after community input, will likely release the RFP in late summer 2014, and then investigators will have a 90 day period to submit proposals.
| | | |
| --- | --- | --- |
| | Jan 16, 2014 - Refurbishing of Elvey 122B to prepare HyLab | |
Elvey 122B is getting a facelift. UAFs facility services will be installing partitions and a door securing the space, will be painting the room black to make it conducive for spectral measurements, and will be activating the network and phone connections.
| | | |
| --- | --- | --- |
| | Nov 14, 2013 - Hyspex instrument ordered from NEO | |
We are happy to report that we have the NSF MRI funds and UAF matching funds in place. Our paperwork for instrument procurement has been cleared by UAF and the Hyspex intrument order (both VNIR and SWIR sensors) has been received by the manufacturers in Norway.